Building Relationships in the Virtual Classroom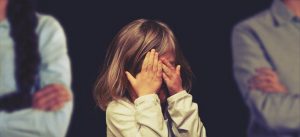 I remember it like it was yesterday. The guidance secretary asked me if I had a minute to talk when I made my usual stop on the way to lunch. She pulled me aside to let me that one of my students stopped by most days after PE class and was sad. You see, I let kids pick their own partners! What I thought was a great way to give the kids choice and explore sometimes challenging new skills with someone they were comfortable with, turned out to leave this young learner alone. She didn't have friends in this class and often found herself waiting at the fringe to get a partner, that probably felt rejected, too.
Why did she go to the guidance secretary and not me?
Maybe she was right – I didn't even notice?
Why would she trust me?
How can she really learn from me if she doesn't feel safe and valued?
This lesson, one of isolating a student who wanted to be engaged, has stayed with me now for a long time! I am thankful that I was able to change that student's experience and for our guidance secretary for letting me know.
Today, I use this experience to consider how we approach learners and learning every day. It matters that we make everyone feel welcome, that our teachers have the tools and resources to communicate, and that the schools we work with trust us to let us know when we are missing the mark.
Becoming Learner-Centered and Welcoming
In order for any of us to learn, it is important that we feel safe and welcomed. Building trust with your learners does not happen just because you enter a classroom. It begins as we develop the relationships that allow a learner to respect us; the effort in building relevant lessons and experiences, the communication, and the belief that each person can learn, is the beginning.
So how do we start at the World of Learning #IU08WOL?
Professional Learning
First, we do our best model by creating an environment that welcomes our teachers and makes them feel supported. As with students, we get to know them and how they learn best. We try to be responsive to their needs and support them when they are trying something new. We offer challenges to teachers who have mastered skills, we support others who may need help.
By working with our teachers and getting to know them, we show that their hard work is valued and that we see their passion for teaching. In turn, our teachers learn to do the same with their learners.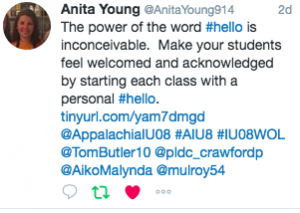 The Language of Choice and Support – Edutopia
Words Matter! In Anita's social media post she talks about something as simple as hello! A personal hello. Not a hollow, Hi, how are you!? Or generic feedback. Neither helps us connect with people. As a teacher we want to build that relationship. If I just say 'nice job' without reference to the many hours of work a teacher puts into providing specific feedback, she may not think I have seen her grade book. But when asking how someone did at their game or concert, or by saying what difference I see when a teacher takes the extra time to tell a student to dot their 'i' and cross their 't' – helps to make it known that I saw and noticed the hard work and passion it took to make the extra effort to connect to the learner. Specific feedback matters. Working alongside teachers who need help matters. And, letting teachers who want to try on their own – use their wings is the beginning.
Teachers Connecting – Getting to Know Learners
At the beginning of each year, our teachers use surveys and games to get to know students or create assignments that ask learners to describe what they care about and are interested in. These interactions help to focus our class presentations so they are relevant and engaging. You can see one good practice, saying hello, leads down the path of building relationships that make a student feel like they are known, that they can trust us. Isn't that where the learning starts?