Get a Hands-On Experience with The World Of Learning Institute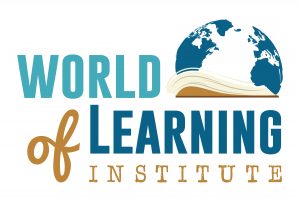 By: Anita Young
We Can Show you HOW
Are you finding yourself in a situation where you can't fill a world language teacher vacancy in your building?  Looking to expand your course offerings to your students?  Considering exposing your students to a language at an earlier age? You have landed at the right place! We can be your solution for all of these situations! Our program will provide you the best, virtual learning experience for your students.  Want to try it for yourself? Get a hands-on experience with a demo.
There are several ways to experience and see what we do best at The World of Learning Institute.  You heard right, EXPERIENCE IT!  Contact us today to schedule a demo and experience a proficiency-oriented language acquisition from the student perspective while being able to evaluate it from the educator perspective. Demos can also be offered to students, parents, or school board members as long as they come ready to participate!
How do I schedule a demo? What is the process like?
Contact us! You can contact the Supervisor of The World of Learning Institute, Dr. Pat Mulroy, at

pmulroy@worldoflearninginstitute.com

OR you can fill out our Contact form on our website:

https://worldoflearninginstitute.com/contact/

 

Dr. Mulroy will follow up with an email or phone call to set up a virtual meeting to discuss your needs, gather more information about your school/class, and answer any questions you may have.  We can schedule the demo then or share with you more information and follow up to set up a date with those participating in the demo.

After the demo, we typically like to meet with schools and administrators to discuss the experience and answer any other questions regarding our asynchronous courses that accompany synchronous live sessions, technology specifications, pricing, etc.
We don't feel like we need to schedule a demo, but we
want to see more!
Don't want a demo, but are interested in "seeing" and "experiencing" more? Check out this sample Arabic demo live session (with adults) and see for yourself the authentic, relevant, and engaging learning that leads to language acquisition in a virtual learning environment. You can also check out our World of Learning Institute YouTube channel and see other live session clips with students.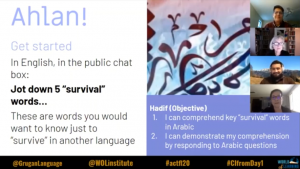 We Can Be YOUR Solution
Let us be the solution you are longing for to deliver world languages to your students. Contact us today to begin the conversation that will provide your students an authentic, relevant, and engaging virtual learning experience that will deliver on language acquisition.
We look forward to hearing from you!