Education Innovation
Listen to the conversation with Janel and Olivia HERE or on ApplePodcast or Stitcher. You can find other Episodes of We Do This Everyday HERE
Show Notes and More…
What a pleasure to talk with Janel Vancas and Olivia Grugan in this episode about Education Innovation – At IU8 and The World of Learning Institute. Listen in for more detail – and see our takeaways below.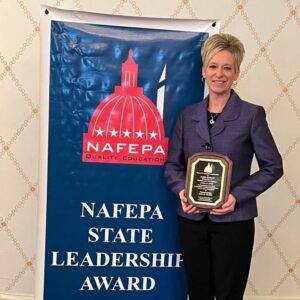 Also, Janel was a recent recipient of the NAFEPA State Leadership Award! NAFEPA has a rich history of advocating for federal education programs in support of America's youth.  NAFEPA provides support for America's educators working hard to maximize the return on investment of federal dollars allocated for education. Over the years at the IU Janel has cultivated and nurtured many relationships that support and build great programs for learners.
In this episode, Janel helped us to understand the purpose of Intermediate Units in Pennsylvania and the larger role of Educational Service Providers across the nation, by many different names.
Here are a few key takeaways about IU's and innovation from our conversation:
Janel and Olivia both talked about moving from public school teacher roles to roles at the IU – and how much happens behind the scenes that they did not realize. From the support for state initiatives, the entrepreneurial nature of IU's, all the services they provide, to creating courses for whole cohorts of teachers, the scope of what IU's do is expansive.
IU8 spans 3500 square miles! Our schools are primarily rural. We serve 35 school districts and a variety of Non-public schools. Our services support students, teachers, and school leaders. We are truly a HUB and comprehensive support system.
Even in our own families, we have children who thrive in schools as we know them – and kids who do not. Listen in as Janel talks about the IU8 Ecosystem and how connections in the community support learning both in and outside of the classroom. Providing authentic and relevant experiences for students and teachers to learn.
We have heard this in a couple of our episodes that 'Change is hard, and new is sometimes scary'. It is easy to slip back into our comfort zone as the pandemic realities shift. The schools and districts that keep moving forward and challenge industrial-age thinking will survive and thrive.
Public Schools have competitors. It is important to pay attention to how people are choosing to educate their children; cyber schools, charter schools, family, and neighborhood pods. If we don't pay attention we could become obsolete.
IU8 and many of our programs support students who would not otherwise be able to have Arabic, Japanese, Chinese, Latin, German, French, Portuguese, ASL, and even Spanish. As teacher shortages continue to grow we are able to help districts fill in the gaps.
What is Happening at the IU:
Remake Learning Day
STEM Rocks Camp
---
Leadership Corner
Great leaders know their teams and provide the resources for them to be successful.   
Janel highlighted 'Knowing the Why' as a strength of the World of Learning Institute. The collaborative nature and support of both Dr. Tom Bulter and Janel provide the WOL with the resources for our continuous improvement.
Leaders need to know their WHY, and WHO they serve.
Janel also lifted up the World of Learnings' being true to its mission of providing the best synchronous virtual learning. This happens because we have developed a strong vision for our organization that comes through in EVERYTHING we do. We A.R.E. – Authentic, Relevant, and Engaging. In our commitment to learners, to supporting our facilitators, to never being finished with improving.
Leaders provide the supports and scaffolds their team needs to help deliver students the best experience possible.
Janel also recognized that high standards permeate the World of Learning. High standards communicate that you believe that your team is capable. Believing that each person is bringing their best every day, supporting them in trying new things, and providing ongoing opportunities to learn helps make us a unique service for schools.