The Power of Hello
by Anita Young, Spanish Teacher and Virtual Learning Specialist
Hello! When we say hello are we greeting a person? Do we think about how it might open a conversation, light a spark, or even make someone's day? Starting with hello is a small but powerful way to create a relationship. As teachers when we say hello we too, hold this power. The amazing possibility of opening a door to something new for a learner. Whether they are in a brick and mortar classroom or a virtual setting.
Hello at the WOL Institue
For us, teaching in a virtual learning setting provides us with a unique opportunity to deliver both content and support to learners (the same can be done in a brick and mortar classroom, too). Before you can indulge them in new technology to explore ancient civilizations, the Pythagorean theorem, or how to properly use kitchen utensils, it is important to create a learning atmosphere that encourages them to be successful and makes them want to come back for more! It is essential to create a  community of learners from the onset of your course.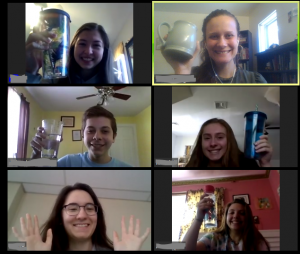 Learners also need to feel welcomed, empowered, and understand that the teacher, the adult, wants to get to know them and see them succeed. Making the time to get to know your learners, is so important because people are more important than 'getting down to the business' of learning content. Learn their names, learn about their community, get to know their hobbies, and who is part of their family! Being able to bring the learners' interests in your classroom will allow them to make life long connections to not only the content but learning itself.
In the World of Learning, we start with Hello! Many of our WOL teachers take the first 2-3 minutes of a live virtual session to great each individual learner. This enables the facilitator to get to know the learners on their roster along with the face and voice of that learner. The learner, in return, feels welcomed and appreciates the facilitator's recognition which can lead to more active participation in the course as well as the comfort level in asking questions.
Getting to know your learners and saying hello only takes a few minutes, but this can go a long way in establishing a community of learners!
Tell us more about what you do to create a community of learners! Share in the comments or on our social media.
Read More Here –http://mams.rmit.edu.au/y6xh29nmrcwr.pdf